Blog Home
Monthly Updates & Upcoming Events (August)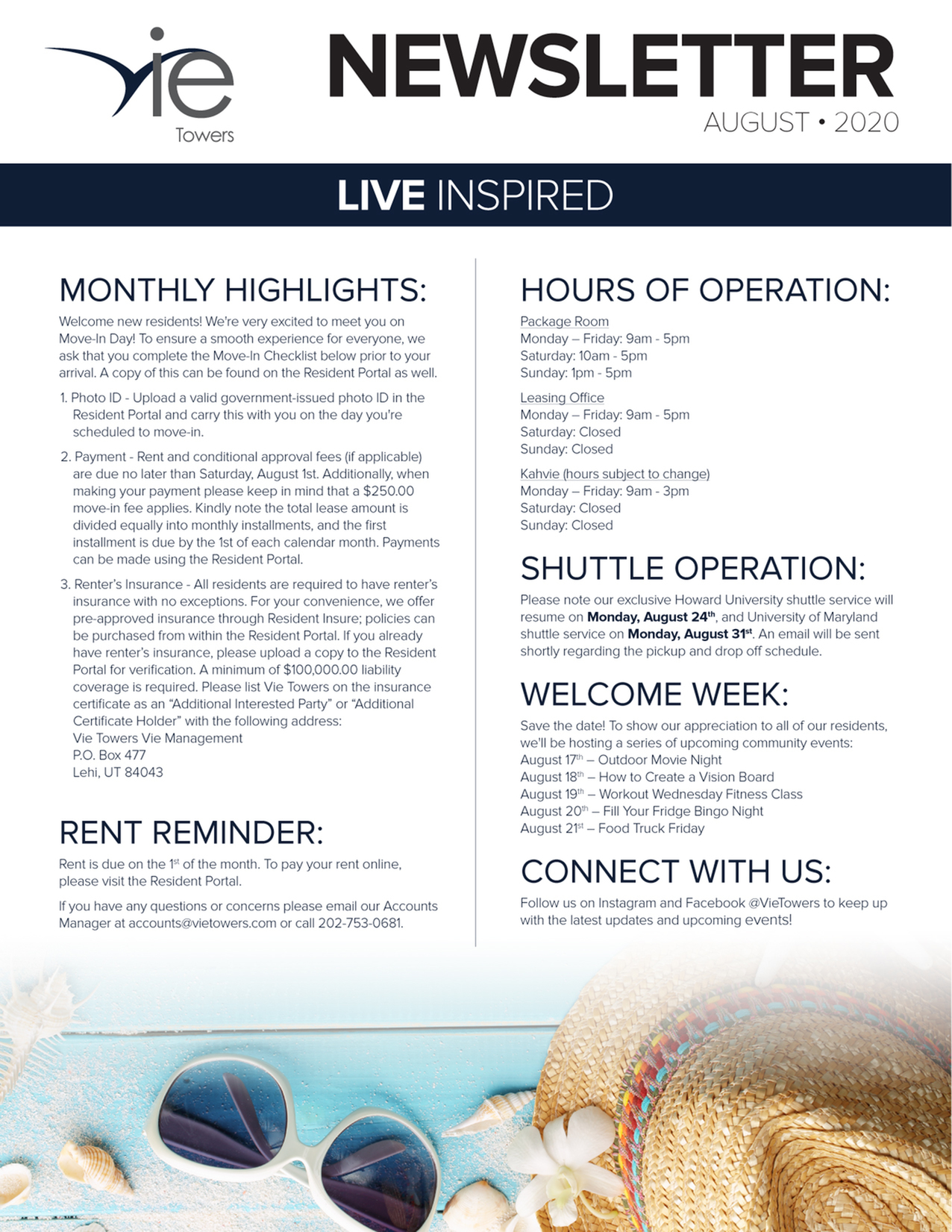 Monthly Highlights:
Welcome new residents! We're very excited to meet you on Move-In Day! To ensure a smooth experience for everyone, we ask that you complete the Move-In Checklist below prior to your arrival. A copy of this can be found on the Resident Portal as well.
1. Photo ID - Upload a valid government-issued photo ID in the Resident Portal and carry this with you on the day you're scheduled to move-in.
2. Payment - Rent and conditional approval fees (if applicable) are due no later than Saturday, August 1st. Additionally, when making your payment please keep in mind that a $250.00 move-in fee applies. Kindly note the total lease amount is divided equally into monthly installments, and the first installment is due by the 1st of each calendar month. Payments can be made using the Resident Portal.
3. Renter's Insurance - All residents are required to have renter's insurance with no exceptions. For your convenience, we offer pre-approved insurance through Resident Insure; policies can be purchased from within the Resident Portal. If you already have renter's insurance, please upload a copy to the Resident Portal for verification. A minimum of $100,000.00 liability coverage is required. Please list Vie Towers on the insurance certificate as an "Additional Interested Party" or "Additional Certificate Holder" with the following address:

Vie Towers Vie Management
P.O. Box 477
Lehi, UT 84043

Rent Reminder:
Rent is due on the 1st of the month. To pay your rent online, please visit the Resident Portal.
If you have any questions or concerns please email our Accounts Manager at accounts@vietowers.com or call 202-753-0681.
HOURS OF OPERATION:
Package Room
Monday – Friday: 9am - 5pm
Saturday: 10am - 5pm
Sunday: 1pm - 5pm
Leasing Office
Monday – Friday: 9am - 5pm
Saturday: Closed
Sunday: Closed
Kahvie (hours subject to change)
Monday – Friday: 9am - 3pm
Saturday: Closed
Sunday: Closed
Shuttle Operation:
Please note our exclusive Howard University shuttle service will resume on Monday, August 24th, and University of Maryland shuttle service on Monday, August 31st. An email will be sent shortly regarding the pickup and drop off schedule.

WELCOME WEEK:
Save the date! To show our appreciation to all of our residents, we'll be hosting a series of upcoming community events:
August 17th – Outdoor Movie Night
August 18th – How to Create a Vision Board
August 19th – Workout Wednesday Fitness Class
August 20th – Fill Your Fridge Bingo Night
August 21st – Food Truck Friday
CONNECT WITH US:
Follow @VieTowers on Instagram, Facebook, and TikTok to keep up with the latest updates and upcoming events.