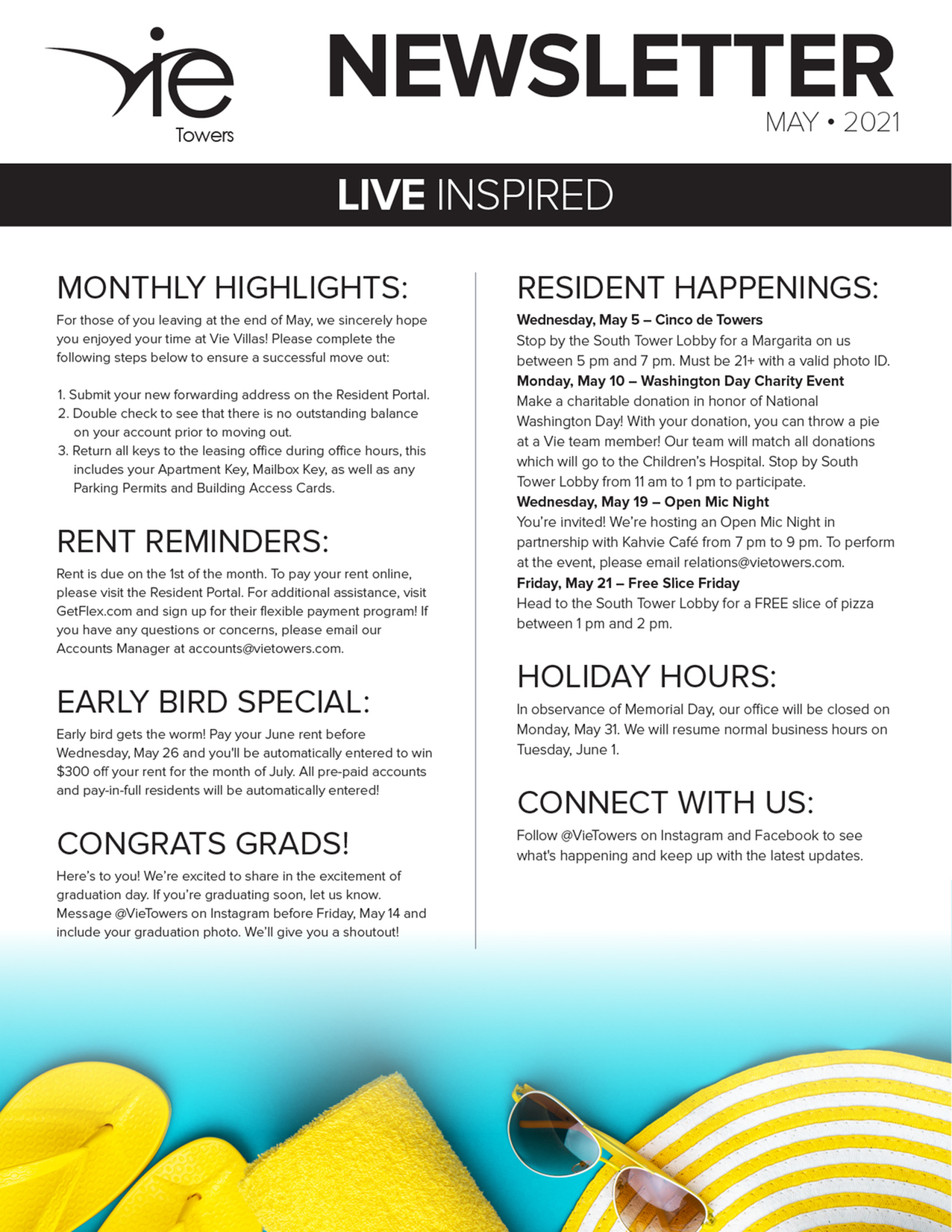 MONTHLY HIGHLIGHTS:
For those of you leaving at the end of May, we sincerely hope you enjoyed your time at Vie Villas! Please complete the following steps below to ensure a successful move out:
Submit your new forwarding address on the Resident Portal.

Double check to see that there is no outstanding balance on your account prior to moving out.

Return all keys to the leasing office during office hours, this includes your Apartment Key, Mailbox Key, as well as any Parking Permits and Building Access Cards.
RENT REMINDERS:
Rent is due on the 1st of the month. To pay your rent online, please visit the Resident Portal. For additional assistance, visit GetFlex.com and sign up for their flexible payment program! If you have any questions or concerns, please email our Accounts Manager at
accounts@vietowers.com
.
EARLY BIRD SPECIAL:
Early bird gets the worm! Pay your June rent before Wednesday, May 26 and you'll be automatically entered to win $300 off your rent for the month of July. All pre-paid accounts and pay-in-full residents will be automatically entered!
CONGRATS GRADS!
Here's to you! We're excited to share in the excitement of graduation day. If you're graduating soon, let us know. Message @VieTowers on Instagram before Friday, May 14 and include your graduation photo. We'll give you a shoutout!
RESIDENT HAPPENINGS:
Wednesday, May 5 – Cinco de Towers
Stop by the South Tower Lobby for a Margarita on us between 5 pm and 7 pm. Must be 21+ with a valid photo ID.
Monday, May 10 – Washington Day Charity Event
Make a charitable donation in honor of National Washington Day! With your donation, you can throw a pie at a Vie team member! Our team will match all donations which will go to the Children's Hospital. Stop by South Tower Lobby from 11 am to 1 pm to participate.
Wednesday, May 19 – Open Mic Night
You're invited! We're hosting an Open Mic Night in partnership with Kahvie Café from 7 pm to 9 pm. To perform at the event, please email
relations@vietowers.com
.
Friday, May 21 – Free Slice Friday
Head to the South Tower Lobby for a FREE slice of pizza between 1 pm and 2 pm.
HOLIDAY HOURS:
In observance of Memorial Day, our office will be closed on Monday, May 31. We will resume normal business hours on Tuesday, June 1.
CONNECT WITH US:
Follow @VieTowers on Instagram and Facebook to see what's happening and keep up with the latest updates.