Blog Home
Monthly Updates & Upcoming Events (July)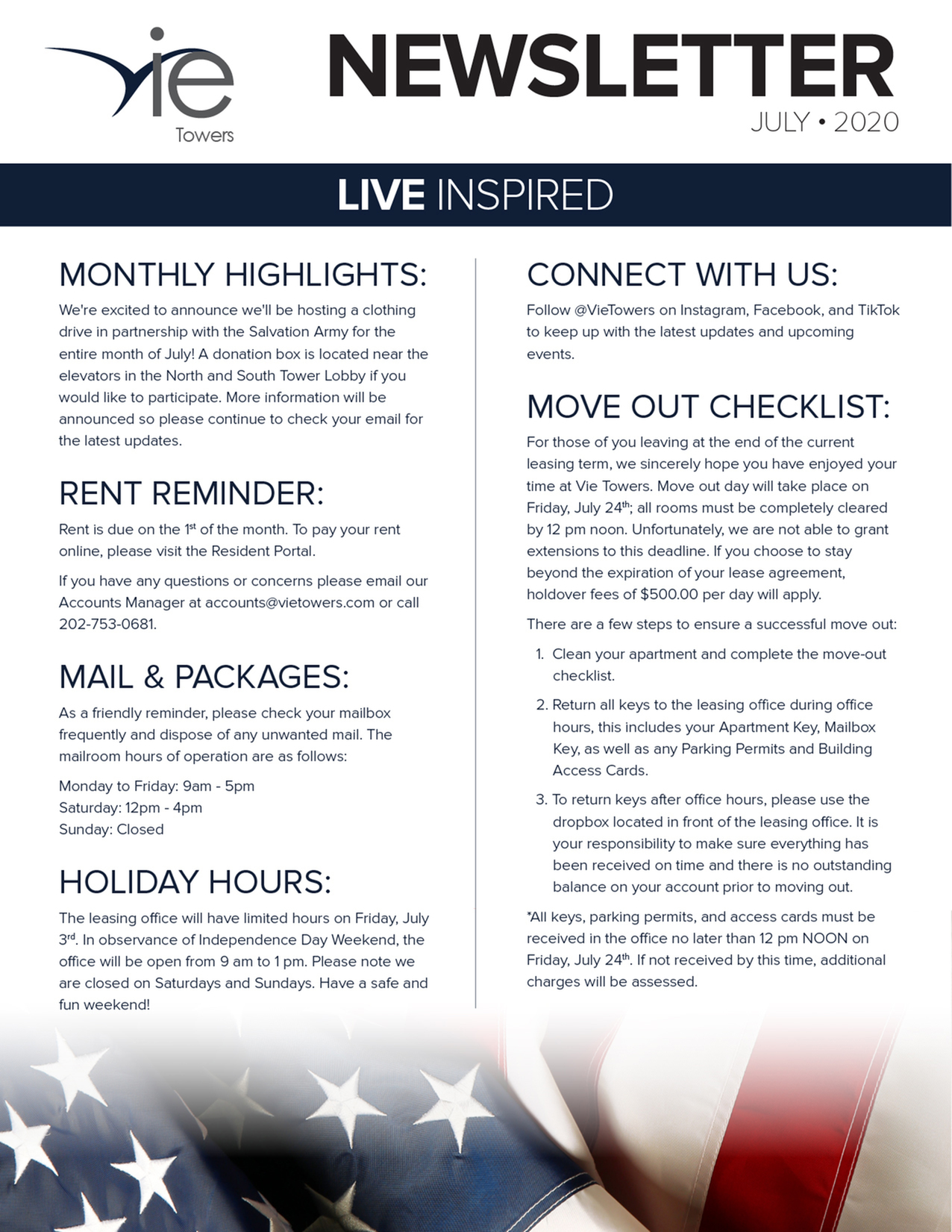 Monthly Highlights:
We're excited to announce we'll be hosting a clothing drive in partnership with the Salvation Army for the entire month of July! A donation box is located near the elevators in the North and South Tower Lobby if you would like to participate. More information will be announced so please continue to check your email for the latest updates.
Rent Reminder:
Rent is due on the 1st of the month. To pay your rent online, please visit the Resident Portal.

If you have any questions or concerns please email our Accounts Manager at Accounts@vietowers.com or call 202-753-0681.
Mail & Packages:
As a friendly reminder, please check your mailbox frequently and dispose of any unwanted mail. The mailroom hours of operation are as follows:
Monday to Friday: 9am - 5pm
Saturday: 12pm - 4pm
Sunday: Closed
Holiday Hours:
The leasing office will have limited hours on Friday, July 3rd. In observance of Independence Day Weekend, the office will be open from 9 am to 1 pm. Please note we are closed on Saturdays and Sundays. Have a safe and fun weekend!
Connect With Us!
Follow @VieTowers on Instagram, Facebook, and TikTok to keep up with the latest updates and upcoming events.
Move Out Checklist:
For those of you leaving at the end of the current leasing term, we sincerely hope you have enjoyed your time at Vie Towers. Move out day will take place on Friday, July 24th; all rooms must be completely cleared by 12 pm noon. Unfortunately, we are not able to grant extensions to this deadline. If you choose to stay beyond the expiration of your lease agreement, holdover fees of $500.00 per day will apply.
There are a few steps to ensure a successful move out:
Clean your apartment and complete the move-out checklist.

Return all keys to the leasing office during office hours, this includes your Apartment Key, Mailbox Key, as well as any Parking Permits and Building Access Cards.

To return keys after office hours, please use the dropbox located in front of the leasing office. It is your responsibility to make sure everything has been received on time and there is no outstanding balance on your account prior to moving out.
*All keys, parking permits, and access cards must be received in the office no later than 12 pm NOON on Friday, July 24th. If not received by this time, additional charges will be assessed.