Blog Home
Monthly Updates & Upcoming Events (June)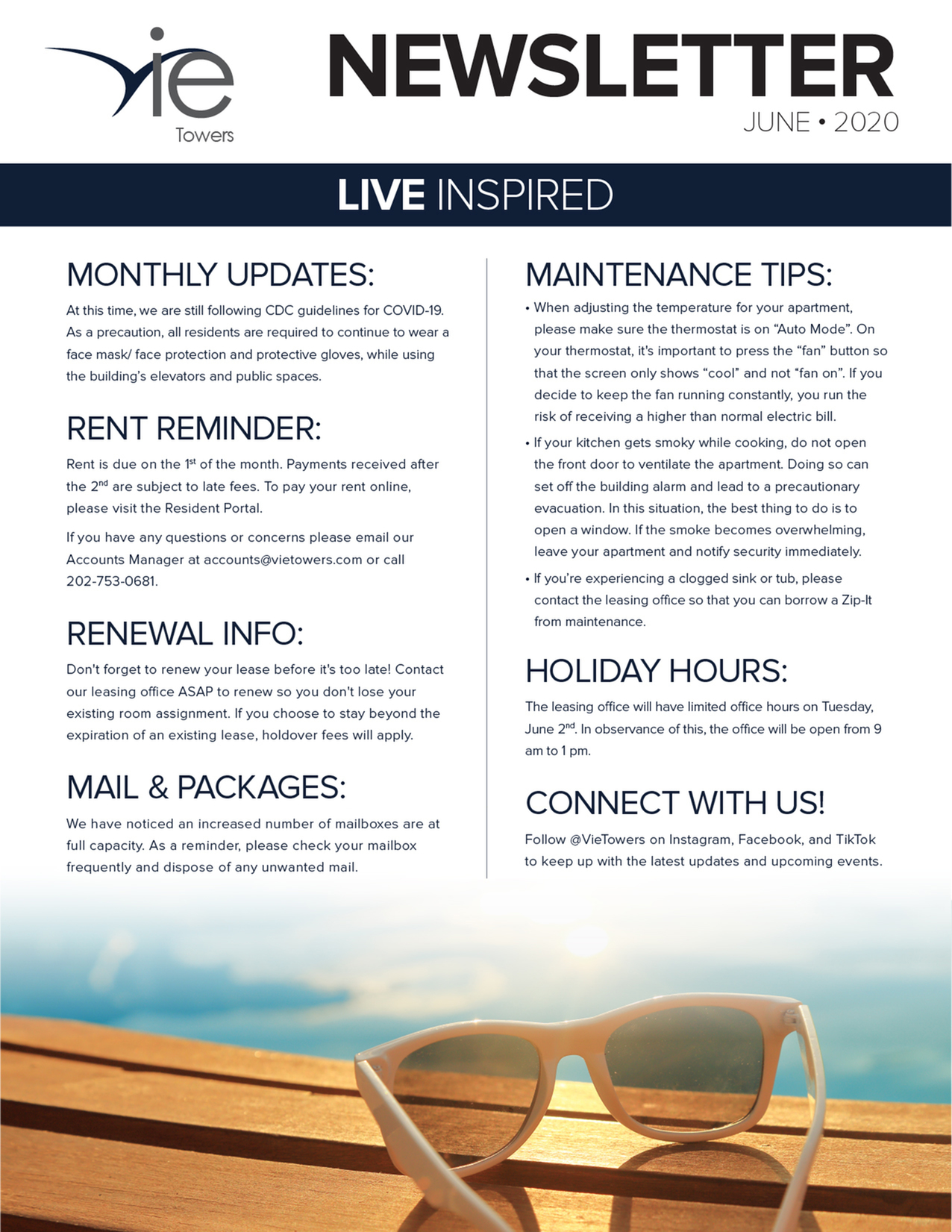 Monthly Updates:
At this time, we are still following CDC guidelines for COVID-19. As a precaution, all residents are required to continue to wear a face mask/ face protection and protective gloves, while using the building's elevators and public spaces.
Rent Reminder:
Rent is due on the 1st of the month. Payments received after the 5th are subject to late fees. To pay your rent online, please visit the Resident Portal.

If you have any questions or concerns please email our Accounts Manager at accounts@vietowers.com or call 202-753-0681.

Renewal Info:
Don't forget to renew your lease before it's too late! Contact our leasing office ASAP to renew so you don't lose your existing room assignment. If you choose to stay beyond the expiration of an existing lease, holdover fees will apply.

Mail & Packages:
We have noticed an increased number of mailboxes are at full capacity. As a reminder, please check your mailbox frequently and dispose of any unwanted mail.
Maintenance Tips:
When adjusting the temperature for your apartment, please make sure the thermostat is on "Auto Mode". On your thermostat, it's important to press the "fan" button so that the screen only shows "cool" and not "fan on". If you decide to keep the fan running constantly, you run the risk of receiving a higher than normal electric bill.

If your kitchen gets smoky while cooking, do not open the front door to ventilate the apartment. Doing so can set off the building alarm and lead to a precautionary evacuation. In this situation, the best thing to do is to open a window. If the smoke becomes overwhelming, leave your apartment and notify security immediately.

If you're experiencing a clogged sink or tub, please contact the leasing office so that you can borrow a Zip-It from maintenance.
Holiday Hours:
The leasing office will have limited office hours on Tuesday, June 2nd. In observance of this, the office will be open from 9 am to 1 pm.

Connect With Us!
Follow @VieTowers on Instagram, Facebook, and TikTok to keep up with the latest updates and upcoming events.